Ullambana 2023
August 27 @ 10:00 am
-
6:30 pm
Remove obstacles + dedicate merits during the 7th Lunar Month.
Buddha taught that the 7th Month Ullambana Festival is one of the best times to honour your dearly departed, send blessings to loved ones, and offer compassion to all suffering beings. This period for honouring ancestors shares many similarities with the Chinese Hungry Ghost Festival, and is observed by Buddhists from all traditions with offerings of feasts and prayers for the deceased.
Join us at the annual Ullambana Festival in Kechara Forest Retreat for special prayers and offerings, and make the most of the auspicious Ullambana month from August 16 to September 14, 2023.
August 27, 2023 (Sun)
10.00 am – 6.30 pm
Kechara Forest Retreat | Livestream
10.00 am Grand Dorje Shugden Puja
3.00 pm Vajrayogini Jangwa Fire Puja
6.00 pm Offering Ceremony
The highlight of the Ullambana Festival is two powerful pujas on August 27 (Sunday) to generate merits and remove obstacles according to the tradition of Gaden Monastery.
The morning starts with a Grand Ullambana Dorje Shugden Puja to attract favourable situations, overcome obstacles, and increase outer and inner wealth.
In the afternoon, there will be a Vajrayogini Jangwa Fire Puja to purify the negative karma of the deceased and help them achieve a good rebirth.
The Origins of Ullambana
According to the Ullambana Sutra, Maudgalyayana, one of Buddha Shakyamuni's chief disciples, saw with his clairvoyance that his beloved mother had been reborn as a Hungry Ghost (preta) in the lower realms. She had a thin long neck, a huge belly and was always starving. When he tried to feed her, the food he offered turned into burning coals as soon as it touched her tiny mouth.
Distressed, he sought Buddha's advice on how best to liberate his mother from such a woeful state. Buddha advised Maudgalyayana to make extensive offerings to the Sangha on the 15th day of the 7th month, saying:
This was the beginning of the Buddhist Ullambana Festival.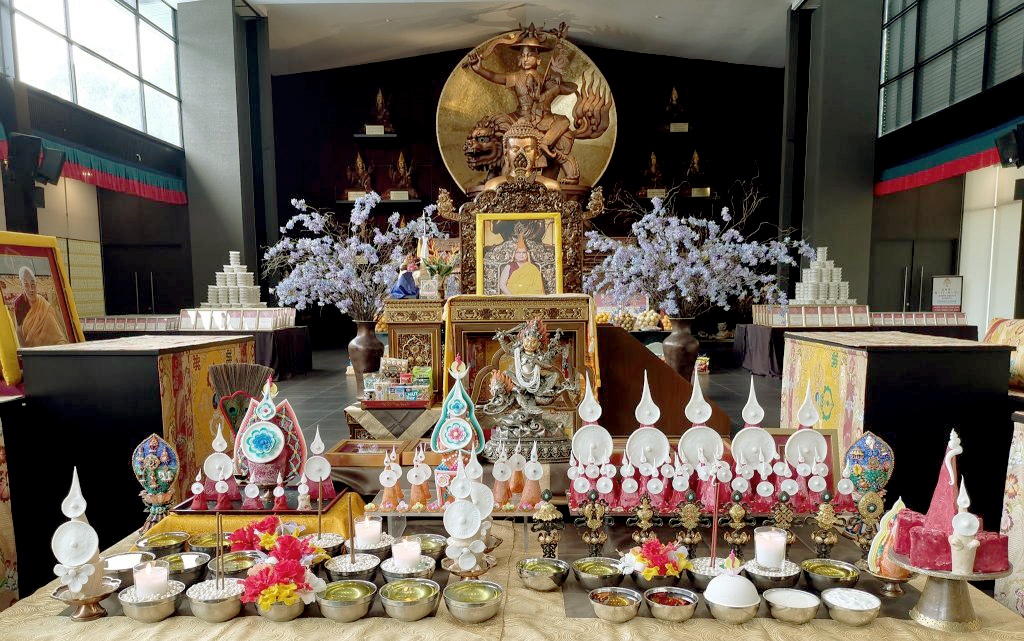 Abundant traditional offerings are made during Dorje Shugden Puja, generating tremendous merits to overcome obstacles and attract favourable conditions.
Remove obstacles and send great merits to those gone beyond and to the people who matter in your life. Our Ullambana offering packages will help you:
Dedicate merits to dearly departed, ancestors, unborn children and even your pets for a favourable rebirth
Repay karmic debtors so that you face fewer obstacles in this & future lives
Receive protection against negative entities & interferences
Fulfill your wishes for health, long life, success & everything good
Our sangha and pastors will make prayers and offerings on your behalf and dedicate merits according to your wishes.
Standard Offering Package | RM 98
6 x Dedication Tablets

(1 name per tablet)

1 x 1-ft Incense
Bronze Offering Package | RM388
2 x Bronze Sponsor Tablets 

(10 names per tablet)

3 x 2.5-ft Dragon Incense
Silver Offering Package | RM888
2 x Silver Sponsor Tablets 

(20 names per tablet)

1 x 8-ft Dragon Incense
30 days Light Offerings
Gold Offering Package | RM2,888
2 x Gold Sponsor Tablets 

(40 names per tablet)

3 x 8-ft Dragon Incense
30 days Light Offerings
3 days Smoke Offering with Pastor Service
Prayer Dedication Package | RM30
1 x Dedication Tablet

(1 name per tablet)

1 x 1-ft Incense
A La Carte Offerings
Candle offering RM10
1-ft incense RM10
Ullambana dedication tablet RM30
Dana offering RM30
1-ft dragon incense (set of 3) RM38
Robes offering From RM68
2.5-ft dragon incense (set of 3) RM88
Wish-fulfilling crystal Gyenze From RM100
8-ft dragon incense RM300
Smoke offering with pastor service RM388
Ullambana Gyenze puja RM388
Ullambana puja offering Any amount
Orders close September 12, 2023 (Tue) 11.59 pm (GMT +8).
Offerings and pujas for orders placed by August 26, 2023 (Sat) 11.59 pm (GMT +8) will be performed on your behalf on August 27, 2023 (Sun).
All other orders will be fulfilled by September 14, 2023 (Thu).
If you're a Kechara Member or Kechara Friend, you can collect Reward Points for your Ullambana offerings. 
Related Events